Utility Scale Solar (1MW+)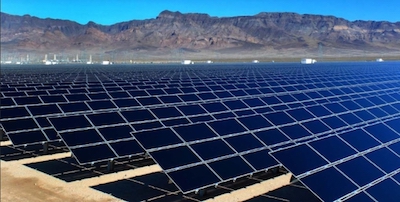 Background - Utility Scale Solar Power Solutions
Large scale (Megawatt size) solar farms that interconnect with local, micro, municipal &/or the national grids. Such farms can supply power either to one large scale user like factories, industries or mines or multiple small scale users like municipal customers, communities, security estates, office blocks/parks or office parks.
This power can either be used for:
Self-consumption: Used on the site where it is produced.
Wheeling onto the local grid: Power is injected onto the local municipal grid for example where it is distributed to users on that particular grid. Excess power can be wheeled onto the national grid.
Wheeling onto the national grid: This power is either sold to Eskom or other power consumers using the national grid to distribute the power.
Banked: Power is generated and wheeled on the grid where it is used by other users. The banked units/credits can then be used at a stage when the solar farm is not producing power.
Stored: Grid-scale storage solutions like lithium batteries can be implemented to allow for smoothing out of the delivery curve, transition to backup gen-sets, power storage or peak shaving to reduce maximum demand charges.
We act as project developers, EPC Company (Engineering, Procurement & Construction), IPP (Independent Power Producer), Project Financing originators & General Consultants.
SEG in partnership with Solar Man, Astraea Energy and SunPower Corporation is working on 6 projects throughout South Africa ranging from 1 to 50 MW in size. The farms will connect to local municipal grids and be a second energy supply source. Solar power will be a primary supply with Eskom supplying whatever additional power is required. Implementation will be from the beginning of 2018.
Benefits of Utility Scale Solar Power Energy Systems
Save money on energy from day 1. Pay off the solar system and get free energy (5 to 10 years).
Tax write-off (1 to 3 years) (100% to 50/30/20%)
Finance options include: Business loan, Bond extension, lease to own and PPA (Power Purchase Agreements)
Carbon tax benefits due to solar power being Non-polluting (air & water), renewable and a quite solution for power generation.
These are solar power systems that can be installed at Municipalities, businesses, office block, shopping centres, factories, mines or farms (with or without grid connections)
Typically these are Grid-tie or grid-interactive systems. With or without battery backups for load shedding and power outages.
Solar Panels are mostly installed on ground mount (open field) fixed or single axis-tracking structures. Battery bank (s) and inverters can be installed in battery rooms
Can be an additional source of income for a municipality / property owner / landlord / developer
How do Utility Scale Solar Power Energy Systems
Grid-tied solar power system: Solar panels generate energy by exposure to sun light --> This energy gets converted with inverters and transformers from DC to 380 volt / 11 kV / 33kV AC current and supplied into the local electrical network --> Power is used on the local network (self-consumption) and/or supplied to the Eskom national grid (stored/wheeled/banked/net-metering).
What information we require to provide a quotation
The best option will be for our solar farm engineering team to do a FREE site assessment. To book a presentation and/or site assesment call Tihan on +27(0)74 5617976 or email: tk@solarenergygroup.co.za
Site info: Location, available roof space/ground space, type of roof, roof facing (North, East & West), space available for MPPT(s), Inverter(s), Battery bank(s), etc.
Present energy usage: Total monthly energy use (in Rands and/or kWh/units) (Eskom bills would be handy), peak use (maximum demand), base load use (constant usage), etc.
Electrical Reticulation: single phase or 3 phase connection, DC board layout and space, grid connection, type of municipal/Eskom meter installed, etc.
Next Step
Book a FREE presentation and/or site assesment by calling Tihan on 074 367 8545 / 074 561 7976 or email: tk@solarenergygroup.co.za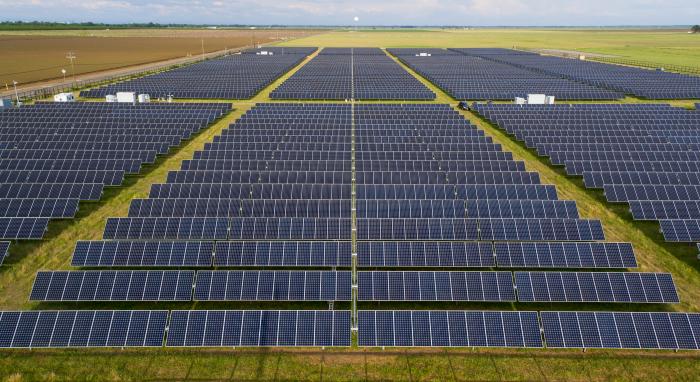 These are large scale commercial solar farm installations that are typically 500kW and larger (up to 100MW). They save money on energy from day 1. When the solar farm is paid off, customers get free energy (5 to 10 years). This is also a possible tax write-off (1 to 3 years) (100% to 50/30/20%). Finance options for commercial solar farm installations include: Business loan, Bond extension, lease to own and PPA (Power Purchase Agreements). Carbon tax benefits due to solar power being Non-polluting (air & water), renewable and a quiet solution for power generation. These are solar power systems that can be installed at Municipalities, businesses, office block, shopping centres, factories, mines or farms (with or without grid connections). Typically these are Grid-tie or grid-interactive systems. With or without battery backups for load shedding and power outages. Solar Panels are mostly installed on ground mount (open field) fixed or single axis-tracking structures. Battery bank (s) and inverters can be installed in battery rooms. Can be an additional source of income for a municipality / property owner / landlord / developer