COMMERCIAL HOT WATER SOLUTIONS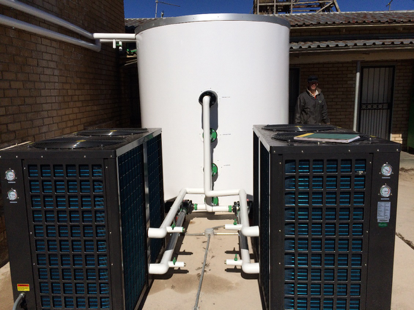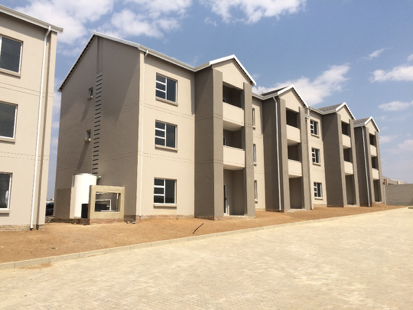 WHAT WE DO:
We supply and install turnkey commercial hot water solutions that includes:
Supply of all equipment
Installation of the whole system to be fully compliant
Low pressure heating tanks with a combination of heat pumps, heat recovery, heat collector panels and/or
Large scale solar heat collector panels (flat plates) fitted onto boilers or heating tanks
Large scale solar tube water heating systems
Commercial heat pumps
WHO ARE OUR CLIENTS:
Commercial & Industrial clients that need efficient hot water solutions for their operations and workers
Businesses that want to save money on their electricity bills by using the sun to provide their hot water
Companies that want a water system that pays for itself in 2/3 years through savings vs paying electricity forever
Lodges and hotels that need to reliably and cost effectively supply hot water to their guests
Off-grid/eco developments that prefer eco-friendly hot water solutions
Customers in rural villages that have no access to electricity but need hot water
Farmers that want to provide their workers with hot water
WHERE WE WORK:
We have offices in Tshwane (Pretoria), Johannesburg, Tzaneen and Mkhondo (Piet Retief)
With an installers and agents network across Southern Africa
We can do work across the African continent (project management team with local labor)
HOW WE WORK:
The client contacts us
We gather all the information required and do a site assessment (if needed)
A proposal is done and presented to the client
The client accepts our quotation
An implementation team is assigned
The project is planned and completed
The client &/or engineer signs off
Operations and maintenance is done (if needed)
WHAT TO DO NEXT:
Contact our Commercial Hot Water specialists to have your questions answered and receive a free quotation:
+27(0)12 807-1023
+27(0)74 561-7976
tk@solarenergygroup.co.za
COMMERCIAL & INDUSTRIAL HOT WATER SOLUTIONS (C&I HWS)
Division and Philosophy
The C&I Hot Water Solutions division has been set up to develop, design, install and distribute high-quality, highly efficient hot water storage vessel or heat accumulators for the Southern African market.
Innovative cutting edge technology, superior quality and dedicated staff have made SEG the perfect partner in providing the right solution in storing energy.
By combining our expertise and strength with that of our partners in South Africa, Germany and the Far East, we are able to supply new and exciting products for the Southern African market. A continuous process of research and development provides the right solution for hot water generation, cold water storage, water management and storage.
Profile
SEG is a specialist in supplying products related to the conservation of our environment. Through a dedicated team of specialists, we are able to provide the right solution for the right application.
Vision
Solar Energy Group is changing the way the world uses our natural resources. Our goal is to make energy and water management as integral as accounting to the operation of every organization. We help commercial, institutional and industrial organizations use their resources more intelligently, pay less for it, and generate cash flow that benefits the bottom line through our complete suite of technology-enabled energy management solutions.
The Team
Highly qualified:
Plumbers
Engineers
Air-con technicians and
Heat pump technicians that oversees assembly and installation of all our turnkey projects.
Products & Services


Hot water & Heating Sets


Collectors


Solar Tanks


Heat Accumulators


Heat Recovery from Chillers


Heat Pumps


Solar Water Heating


Solar Components


SLA Agreements on operation and maintenance


Remote monitoring of installations


Prepaid water meters (hot and cold water)
Activities
Solar Energy Group, together with our respective partners have introduced:
Heat Accumulator Technology to the Hot Water Market, by separating potable water from any heating water
Heat Recovery from HVAC Systems to heat up potable water
Energy Saving Heat Pumps and Solar Water Heating
Building Energy Management Systems
Remote monitoring and control systems
Distribution & Installation
All over Sub-Sahara Africa
Major Projects Completed 2013 to 2016
Various Flat and Office Buildings in or around Gauteng, South Africa
ABSA Towers North Hot Water System (15,000lt Heat Accumulator)
Air Chefs Hot Water System (3 x 10,000lt Heat Accumulator)
Netcare N17 Hot Water System (10,000lt Heat Accumulator)
Netcare Pinehaven, Pretoria East, Margate, Polokwane, Blauwberg
Anglo Platinum (17 x 10000l tanks)
South Point Student Accommodation
Monash University (12x 2500L tanks)
UJ campus residence (3 x 10 000L tanks)
Here are some of the recent installations:
| | |
| --- | --- |
| | |
| Kavalier abattoir – Cullinan, supplying 50 000l of hot water | Sibanye Gold mine, 8000L tank with two 45kWatt heat pumps |
| | |
| Stonewood residential – supplying 12 flats from 1 x 2500L with 2 x 10Kwatt heat pumps | 2500L and 2 x 10Kwatt heat pumps |
| | |
| Hot water consumption is measured by Wi-Fi smart meters and each owner or tenant is billed individually. | Commercial hot water solution with 3 x 20000L and 6 x 100kW heat pumps |
Our technology:
All our tanks are hand build

Up to 2500L sizes are fully assembled at out factory

All tanks ranging from 3000L up to 25 000L are assembled on site as below images show

We can only need access through a single standard door to bring in our units and component parts
How does it work?
The heat accumulator tank has a zero pressure rating,

Which means that the fiberglass tank is in essence a pot of water that is being energized up to 60 degrees by means of the heat pump.

The fresh water which is fed into the heat exchange coil is under municipal pressure,

As the cold municipal water coils up inside the tank, it absorbs the latent heat from the water in the tank,

By the time it reached the top, it has reached 60+ degrees Celsius.

Our tanks are perfectly insulated, and has therefore a zero standing heat loss. By doing this, we increase the energy efficiency by at least a further 10%.

A combination of solar heat collector panels, heat pumps and heat recovery is used which has an energy saving of more than 60%, and with our tank combination, we have reached savings as high as 70%.
Off-site monitoring:
We created an off-site monitoring system, that allows us to view the entire plant operation, and this gives us early warning system in case something goes wrong. We installed the system at Airchefs in Kempton Park, and we can have a technician on site, even before the client realizes they have a hot water problem.
For any further enquiries, contact Tihan Kuypers below
Tihan Kuypers
074 561 7976
012 807 1023
tk@solarenergygroup.co.za